The function of procurement teams is more than just procuring goods and services relevant to a business. The procurement role is considered to be fundamental towards achieving sustainable cost management for a business.
With the procurement activity being one of the main drivers behind savings and a business's operation, it's key for the procurement team to perform optimally.
By taking into account the basic components a procurement function should have in place, procurement teams are laying down the foundation for best practices.
1) Establishing a Procurement Flow
If you're a part of a procurement team from a company size of above 100 employees, odds are already following an existing procurement flow. If you have an existing flow, when was the last time it was formally updated?
Smaller businesses may have their procurement responsibilities parked under the finance department or conducted by administrators.
Regardless of who executes the procurement responsibilities, it's important to have a procurement flow established as it impacts ongoing procurement activities moving forward.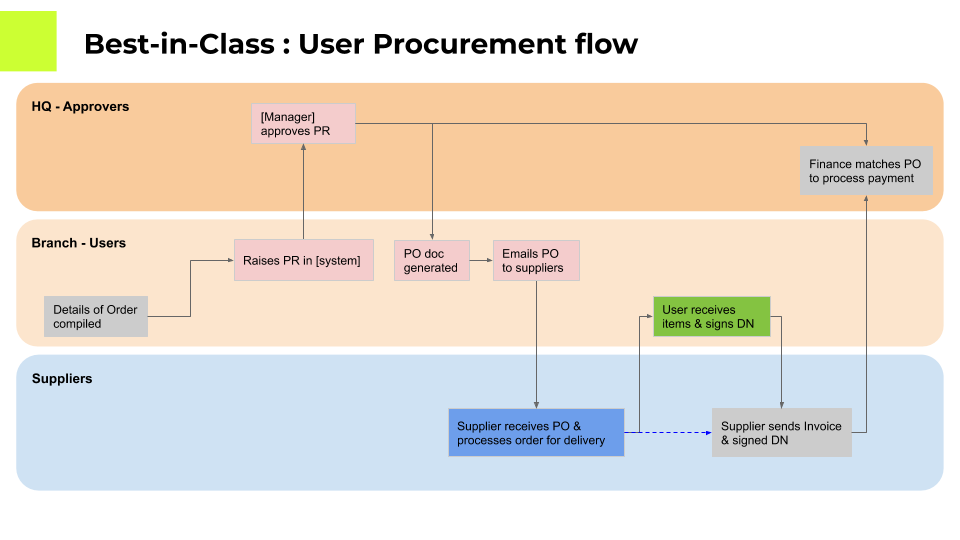 A standard procurement flow starts with a purchase requisition followed by the generation of a purchase order and finally to the issuance of an invoice to pay vendors. This is sometimes highlighted as the Procure-to-Pay (P2P) process.
2) A vendor management & contract management framework
Vendors play a big role when it comes to the success of any procurement team. When it comes to vendor management, there are two areas companies should take into account: a vendor's reliability and contract pricing.
When it comes to a vendor's reliability and performance, it's crucial for businesses to communicate their desired deliverables and outline them in a Service Level Agreement (SLA). Conveying the expected level of service that a vendor at an early stage an important step towards having long term plans in place that eventually reflects your vendor's performance.
The other area companies should consider when it comes to vendors is contract pricing. Contract pricing enables businesses to save time by reducing negotiation efforts, especially for tail-end spend items.
3) A Spend Map
Mapping your company's expenditure is an important step towards gaining spend visibility and identifying cost-reduction opportunities. Despite these benefits, a lot of procurement teams still struggle with gathering and analyzing their spend data.
Two common challenges faced by businesses when it comes to mapping their spend are incomplete data and spend data that is not readily available.
It's common for businesses to look at spend data in totality for bottom-line purposes but it's also beneficial for businesses to analyze and break down their spend by categories and vendors.
A category analysis and a vendor analysis let's procurement teams identify what they are buying and who they are buying from respectively.
4) A System
A lot of companies consider procurement processes to be complicated. Having a system ties all of the other procurement components together that occur at different stages of the procurement process.
A cloud-based platform like ADAM digitalises and automates the procurement process.
When it comes to a system, businesses should look out for a system that is simple yet scalable for their growing business needs. Other system criteria businesses should consider is flexibility. An ideal system that is flexible would have modular features that can be added on based on a businesses' needs.
---
Implementing these best practices are the first step towards a successful procurement journey. Get in-depth insights on the above best practices in Supplycart's latest whitepaper, 'The Top 4 Procurement Essentials: Key Components Every Successful Procurement Team Needs'.
Get this exclusive 15-page guide plus a complimentary procurement checklist for FREE!