An ultimate goal for any business is to make profits that can contribute to the company's probability of enlarging its scale and impact. To achieve this by delivering its products or services, a business involves an interplay of several parties that are part of its supply chain. The suppliers are one such party of importance. Without a good set of suppliers, any business would struggle to meet its employees' and customers' demands, incurring no gains.

So, suppliers are certainly show-stoppers, who work behind the scenes in most businesses. They carry incredible value, pressing the importance of businesses to establish meaningful relationships with their suppliers. If you are a business driving towards growth or expansion and have not been giving much attention to your suppliers, then it is high time for you to be more mindful of them.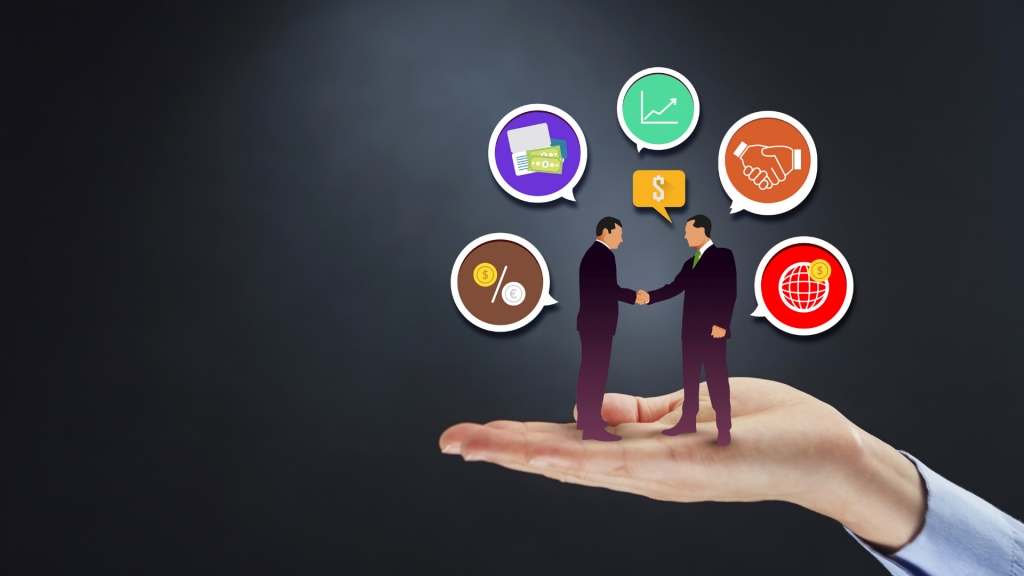 Categorising Suppliers and Its Benefits
As humans striving towards our own goals, we all have the tendency to look for the right place, the right moment, the right person and so on. Similarly, successful businesses naturally look for the right suppliers. The right suppliers are those who have and deliver the right items at the right time for your business, giving your business a competitive edge.
Every individual is unique and has a different effect on different people and different situations. Similarly, suppliers can vary in their offerings and functioning, each having a different impact on your business. Thus, correct identification is crucial for business. This can be done through an analysis using the Kraljic Matrix developed by Peter Kraljic in 1983, presented below. Which helps categorise suppliers into groups based on your business needs or purchase evaluated on two dimensions. This tells you which suppliers to leverage, who to build strategic relationships with, who to invest time on and who you should not.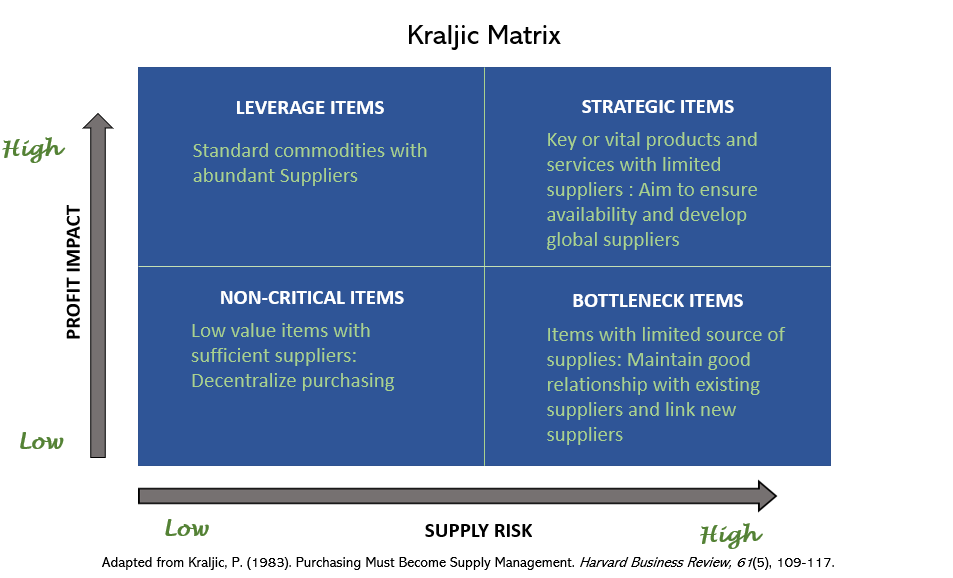 Supplier Analysis Using the Kraljic Matrix
The "non-critical items" and "bottleneck items" categories may not always be of much concern as they relatively have less significant influence over business gains. However, the "leverage items" and "strategic items" categories of suppliers are of more importance for their impact on profits and the supply risk they possess. These are also your top suppliers, accounting for a large amount of your spend and so require much attention.
Leverage Items Category
Suppliers are considered for leverage when they are generally needed for business and have plenty of options in the market. As there is no desperation here, a strategy for businesses could be to negotiate for a rebate or discount price. Although this sounds like a win for only one side, it is beneficial to both the seller and buyer. It is a way of rewarding buyers, that helps sellers to boost sales, strengthen relationships with businesses, and gain loyal buyers. While buyers enjoy saving money and experience convenience that they make recurrent purchases from these suppliers and some even become their preferred suppliers.
Strategic Items Category
The "strategic items" is another category of most concern as they have high profit impact and high supply risk. The suppliers for these items are limited in number and do not have many alternatives. Managing suppliers for these items can be done through an evaluation practice that is familiar to most businesses.
Key Performance Indicators (KPIs) are commonly used to assess success and failures in a business or within departments over a given period. It provides businesses with valuable data on the areas to be improved in order to achieve expected outcomes or goals. This method can be applied to suppliers. By setting KPIs for these suppliers, it becomes easy to track their performance in terms of your expectations or goals e.g., item availability, consistency, speed of processing and delivery. Therefore, when suppliers perform poorly, you can save time and money by looking for better alternatives.
Use ADAM to support your strategic supplier KPI assessment. ADAM's Analytics Feature lets you continuously monitor vendor performance and get vendor reliability scores. It provides data on vendor quality, and your company's expenditure across different product/service categories to select suitable suppliers and control spend. This will help you procure with confidence from your suppliers under the strategic items category.
Non-critical Items & Bottleneck Items Category
Although the "non-critical items" (low supply risk and low profit impact) and "bottleneck items" (high supply risk and low profit impact) categories may be of relatively less importance or require less focus, efficiently managing suppliers of these items as well may prevent small careless losses that may become big in the long run.
Now, the number of relevant product categories and the number of suppliers linked varies from business to business. However, most businesses deal with multiple vendors under each of the four item categories and with manual methods like emailing and excel sheets, this whole affair can be quite taxing. Negotiating and tracking your spend with these suppliers can be problematic, due to lack of clarity and reduced data credibility. A solution for this is ADAM. With ADAM your supplier collaborations are all taken care of.
Digitalise and manage your suppliers within a single platform
ADAM is an e-procurement software that simplifies vendor management for you. The following are some features of ADAM that aid this process and lets you enjoy cost reductions:
1. Single Integrated Platform – you can onboard existing vendors to a common platform, save time on vendor registration procedures and use a single portal for all vendor payments to lessen confusion.
2. e-Sourcing Feature – access 30,000 products and services on ADAM and its huge database of vetted vendors. Get instant price comparisons between different vendors to select the best price and make savings.
3. PO & Quotation Feature – avail discounts from your preferred suppliers through this feature.
4. Company Catalogue Feature – allows you to guide your users to buy from preferred suppliers at the right price and provides access to contract pricing agreements to enjoy guaranteed cost savings.
5. Contract Pricing Feature – keep track of contract pricing negotiated with your suppliers and have these reflected in the company catalogue.
6. Supplier Analytics Feature – view spend across different suppliers and quickly identify bulk saving opportunities.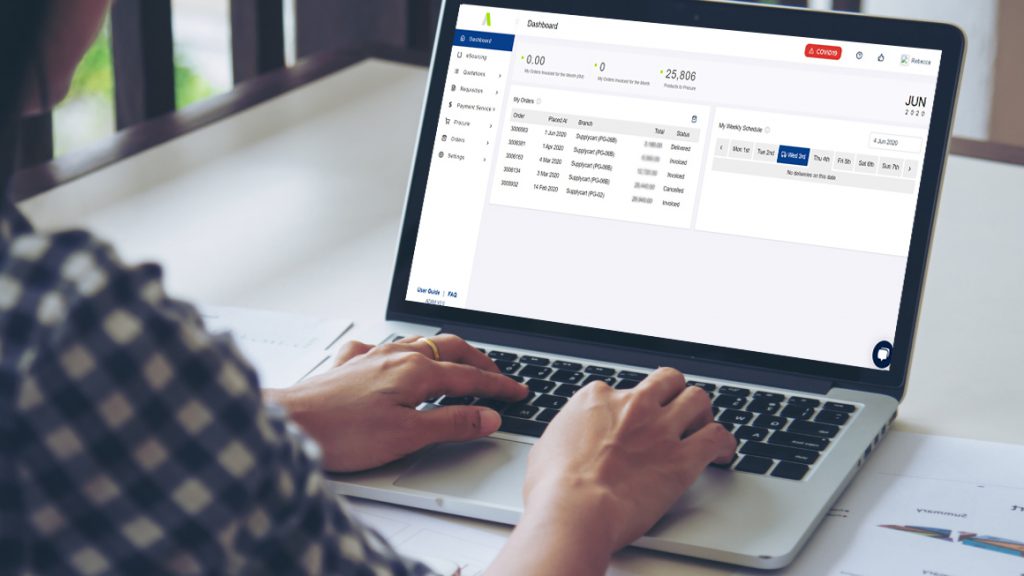 Overall, supplier analysis and management require careful consideration and planning. Especially, with multiple suppliers in the loop and handling POs using manual means of communication, procurement teams may run in chaos. Particularly at times of crisis like the current Covid-19 pandemic that has triggered fluctuating demands. This is also when manufacturers and suppliers are troubled by disturbances such as changes, cancellations in PO and delay in deliveries. So, suppliers collaborating need to actively respond to the changing demands, for which businesses must effectively communicate their changing demands first.
As explained earlier, supplier analysis and management can be made easy by digitalising your sourcing process. It lets you communicate your needs and handle all your suppliers systematically, leading to substantial savings.

---
Got supplier collaborations in mind? Looking for a change? Choose ADAM, your portal to hassle free vendor management.
Digitalise procurement with Supplycart.