Venturing into Supplycart's marketplace (through ADAM), you might be wondering the differences between the offerings there compared to the usual marketplaces such as Lazada and Shopee.
At first glance, both marketplaces may appear similar in terms of design and layout, but the various contrasts soon become evident upon browsing further. In the following article, we highlight five major differentiating points and features available on ADAM that you can take advantage of today.
#1 Product Categories – B2B vs B2C
One of the main differentiating points is that Supplycart's marketplace is designed with businesses in mind, therefore caters to business needs, rather than the consumer market. You would find the range and categorization of products and services on ADAM quite different from the general B2C marketplace.
Functioning as a B2B marketplace, ADAM serves the fulfillment of businesses' day to day operational needs. With that, the product categorization in ADAM is designed to facilitate easy searching of business-related supplies and solutions, such as office facility maintenance products, printing services, safety and PPE, etcetera.

Meanwhile, the type of products available in B2C marketplaces are more for personal and household consumption, for example, health and beauty, kitchen appliances, clothing, etcetera.
As a user, you would probably discover an overlap of items such as food supplies, beverages, cleaning items, stationery available on B2C marketplaces as well as on ADAM. That is because these items apply to both consumer and business markets.
On ADAM, there are more than 25 business related-categories (B2B) such as corporate gifting & premiums, facility maintenance equipment, pantry, office furniture, and many more, which you can purchase to address your organisation's needs.
While most marketplaces exist independently from an e-Procurement software, we have built ADAM with a closed B2B marketplace providing more than 30,000 products and services options in its "Procure" function.
Interested in finding out more? Sign up an account on ADAM
#2 Easy Price Comparison
It is common in marketplaces for multiple suppliers to offer the same product. In fact, this is what sets marketplaces apart from individual e-commerce websites as you are able to access multiple options and have flexibility on your selection based on price point and vendor reliability. However, this translates to the additional time required to compare different vendors and prices manually.
Furthermore, different naming conventions of the same item can often lead to confusion. Take, for instance, you observe that two products that are named differently even though they are identical. An example would be "MILO Active Go Softpack (2kg)" versus "Nestle MILO Activ-Go Chocolate Malt Powder (2kg) .
As an avid marketplace buyer, you would probably identify with the experience of double checking whether you are buying the right product or wondering whether you missed out price specifications to have caused the price difference.

We understand how this process could be tedious and confusing; hence ADAM is designed to bring the best of both having multiple vendors while allowing users to compare the options quickly.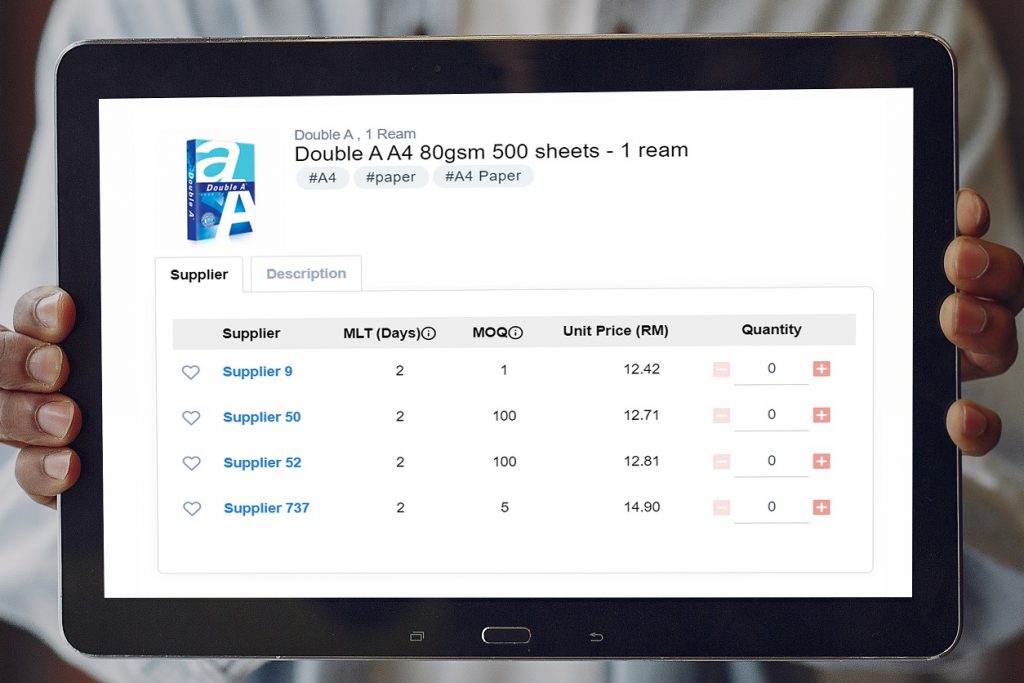 Sign Up and access quick price comparison with ADAM
On ADAM, we provide comparisons with one glance so that you can quickly compare prices, vendor reliability, lead time, and minimum order quantity of the product you are looking for. Our product specialists go to great lengths to consolidate products with different naming conventions so that you know for sure that there aren't duplicated products within the system.
If you are looking into integrating or "punching out" the marketplace with your existing e-Procurement software, this is a value add to avoid having duplicate product items in your system. This would save your team precious time from cleaning data.
#3 Bulk Purchases for Businesses
Getting products at the cheapest price point would be a key concern for both businesses and consumers. Businesses have the advantage of obtaining better prices through their need to obtain products at a larger quantity.
This brings us to the third differentiation point – the ability to request better pricing for bulk purchases.
On ADAM, you find products with "bulk prices" available on the "Procure" function., for example, A4 Paper being priced by 1 ream and 100 reams. Alternatively, you can request a quotation through the e-Sourcing feature for a custom quotation if the item is not readily available at the quantity you are sourcing.
The e-Sourcing feature on ADAM provides an indication of prices offered by the different vendors and allows you to ask quotations from up to three vendors. Supplycart sends your quotation requests to the selected vendors, and once it is available, users are notified through email and easily track them under the "Quotation" feature on ADAM.
This allows businesses to quickly access customised pricing and obtain the best bargain for the purchase.
#4 Source for Both Products and Services
While most marketplaces out there (B2B and B2C) usually specialise in either a product or service segment. Popular service marketplace platforms such as Kaodim and Recommend.my exists independently.
The general user experience involves signing up on at least two platforms, track fulfillment, and complete payment independently. Understanding how this process may be a hassle, ADAM aims to provide convenience to its users by incorporating the sourcing and procurement of both product and services within one platform,
On ADAM, you will find solutions for events, printing, videography, HR-related services, transportation, and many others offered by a variety of service providers. By sending in a quick form, users can request a price quotation based on the specifications of the services sought after. Within 2-3 days, a quotation will be made available for further confirmation and negotiation.
By consolidating the procurement of products and services, companies are able to enjoy improved efficiency relating to sourcing and spend visibility of departments and branches.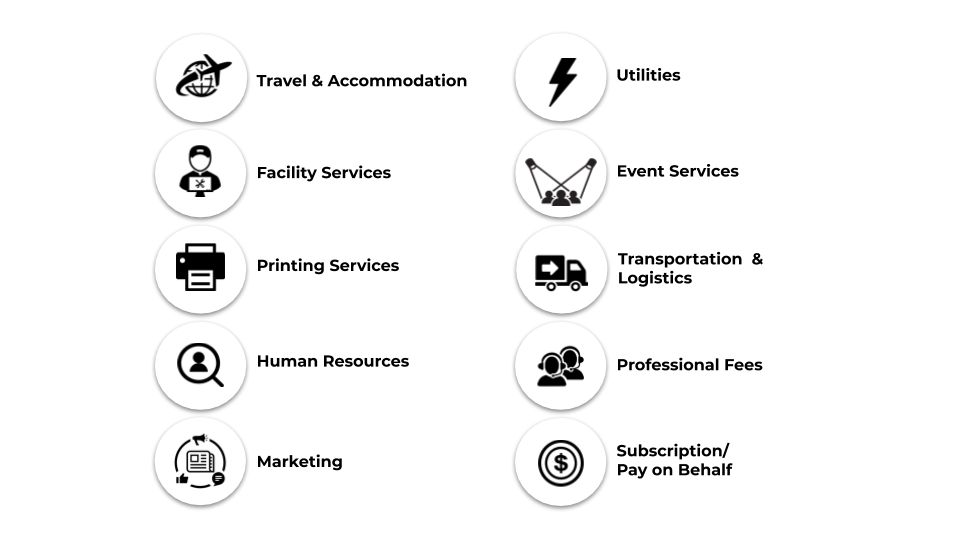 #5 Business Purchasing Functions
While you would find similar e-commerce features such as "creating your favourite list, repeat purchase, order tracking," there are several value-adds that apply specifically to business purchasing purposes available on ADAM.
As a consumer, you are able to make direct decisions for items purchased for personal consumption. Business users, however, have to adhere to purchasing policies placed to protect the company's best interest. Such policies may include generating at least three quotations for purchases exceeding a certain value, obtaining relevant stakeholders' approvals, or ensuring a purchase order is issued before an order is made.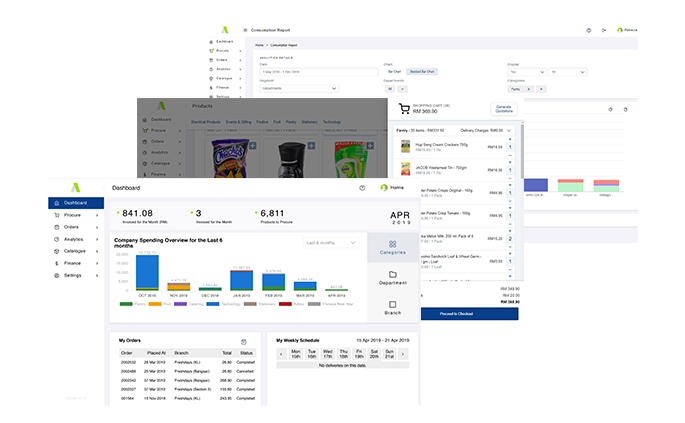 ADAM is designed to help companies ensure purchasing policies are complied with while providing a convenient and easy-to-use experience for users. Companies can choose to customise their purchasing experience with the following features:
Multi-users – as compared to B2C marketplaces where users buy for their own, users can invite other company purchasers into the system.

Consolidated company purchases – ADAM provides an overview of a company's purchases, delivery status, invoices and other related documents

Generating quotations from the cart – users can generate quotation based on the items on their cart within one click

Spend analytics – live review and easy reporting of company's consumption and spend reports

PO compliance – compulsory PO number input is required before a purchase can be made

Approvals – customise up to 5 tiers of approvals based on company requirement
Wrapping Up
With the 5 key differentiating points (summarised in the table below), we hope that it would help you understand Supplycart's marketplace (ADAM) and its functions to help empower business purchase more effectively.
ADAM, a built-in mind for business purchasing purposes, is aimed to help companies streamline their purchasing processes and provide convenience to its users.
Get to know more about ADAM and its extensive features for indirect spend solutions here.
If you are a vendor and would like to list your item, please indicate your interest here.