It All Started With A Cat…
I came across Supplycart in a job advertisement posted ages ago, but I decided to look them up on Google anyway and found out that they were still actively recruiting Tech interns.
The company's Tech team was looking for an enthusiastic undergraduate who is interested in web development. I've never done anything related to web development before, hence I was doubtful that I was qualified for the position. Yet at the same time, I was attracted by the job description a lot; I've always wanted to be part of the SCRUM development cycle – something that I've always heard but had never experienced before – and this could also be a good chance for me to get an overview of what web development is like.
I scrolled through the requirements of eligible candidates, and on the last line it read, "Love cats". That was when I realised that there is an office cat around. I read this and thought to myself, "That's it, I'll apply for this position. Hopefully I could get the position, explore a field that I never ventured into before, and be doing all this while stroking the office cat's fur". I sent an email to the Tech team and after two interviews, I was informed that I could join them in December 2020! I was thrilled and started to count down the days until I could meet the unknowns and the office cat.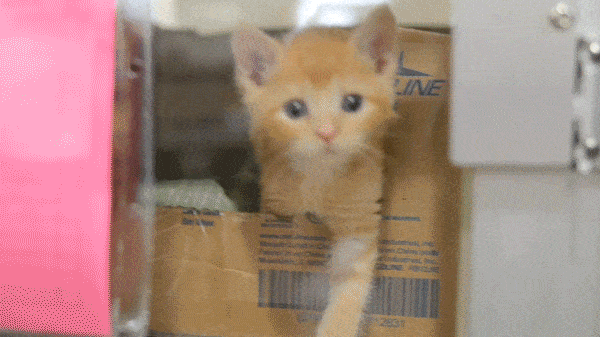 Say Hi To The Team And Bye To Meow Meow
Unfortunately for me, I never get to meet the cat throughout my internship 🙁
All three months of my internship landed perfectly within the movement control period, and the company had also employed the "work from home" policy during this period due to the worsening pandemic situation. As a person who is not great at interpersonal communication, it was hard to imagine fitting in an unfamiliar environment and getting along with colleagues through a small laptop screen in my room. Nervousness and uneasiness slowly crept into me, replacing my earlier excitement, and with all those worries, I started my internship, firmly believing that the VS Code will be my only friend throughout this journey.
It turned out that I was wrong. Very wrong. Despite the challenges that I had to overcome to set up the web development environment on my personal laptop, everything else was much better than I had imagined.
Working remotely wasn't as cold as I thought it would be. The team welcomed me with warmth, and all the team members were friendly and helpful. As this was my first time learning about the web frameworks – Laravel and VueJS – I constantly had questions forming in mind. Luckily for me, the company's tech team members are friendly and helpful. They were very responsive to messages and very patient in explaining procurement flow to me whilst also helping me to better understand the codebase. Thanks to them, I was able to familiarise myself with the procurement flow and the two web frameworks more easily. I was showered with kindness throughout the internship by my team.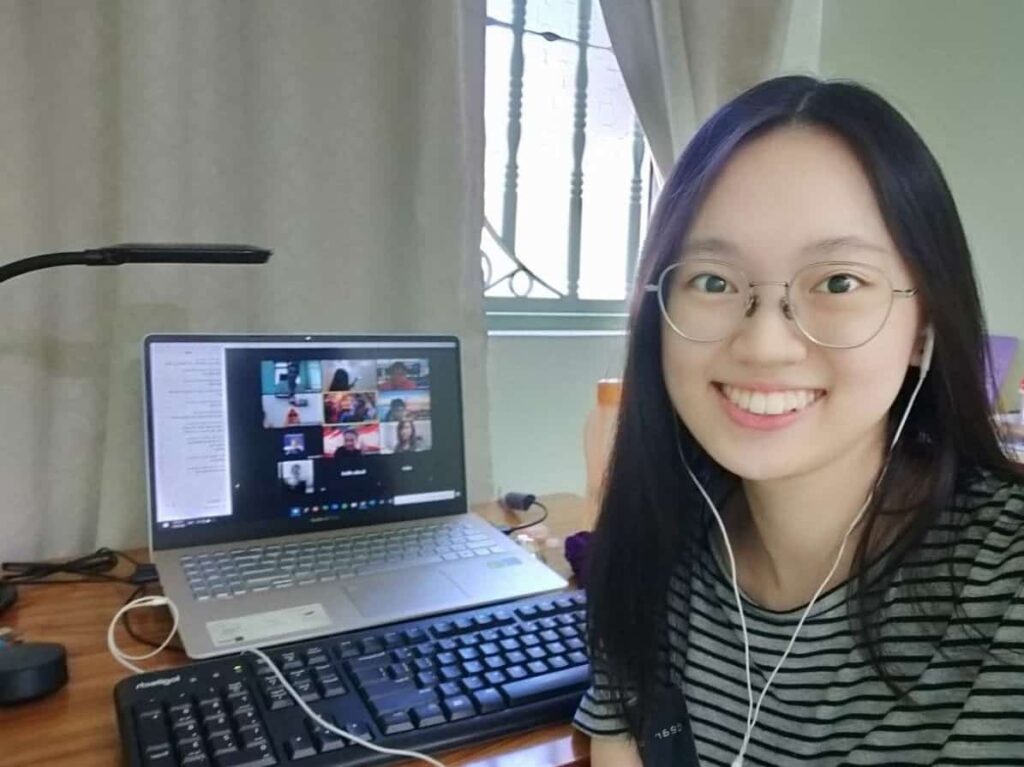 Really, despite thank you, I don't know what more there is to say to my lovely colleagues.
The Tech department at Supplycart is a magical place. It has a mysterious power that attracts people and binds them together. From my observations, there is no opportunity to be individualistic in the team because everyone strived to work together and achieve their Sprint goals as a team. The developers loved to discuss the technical approaches and resolved challenging issues together. As a newcomer, I found myself influenced by the team awareness in them, and without me knowing, I felt a sense of belonging and I was aligning myself with them.
Together, we've worked hand in hand to deliver procurement solutions to our customers. Even though I was working remotely, the overall working environment and atmosphere were really great, and I liked it very much.
Throughout these twelve weeks' time, I found myself gradually growing an interest in web development. My job mainly revolved around fixing bugs and improving existing features. In web development, unlike many other branches in computer science, the outcome of your effort gives a huge visual impact, as the changes that you made are reflected directly on the web page itself. I'd say this is the best part that I like about web development, whenever I looked at the web page with the new features or improvements that I just put in, I felt extremely satisfied, and over time, I grew addicted to this feeling, which motivated me to work harder and achieve more.
Even Without The Cat, I Had A Great Time!
Outside of working hours, Supplycart is fairly energetic. Despite not being able to have physical activities at the office, the company still maintains its office traditions and celebrates Christmas and Chinese New Year together.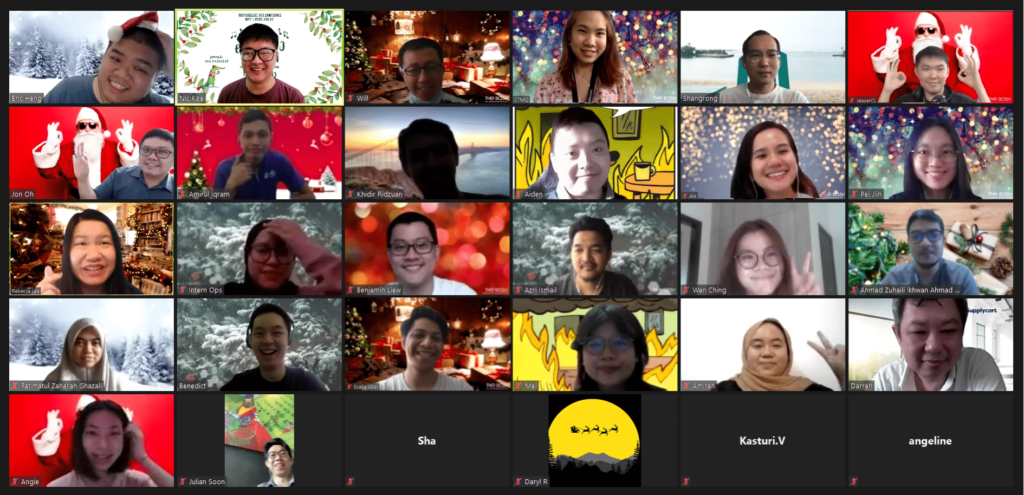 For our Christmas celebration, we played a game called "Dirty Santa", which essentially is gift exchanging… but in a dirty way. All of us prepared gifts and mailed them to the office, and on the Monday evening before Christmas, everyone gathered in Zoom. One by one, we either choose a present to unwrap or steal an already unwrapped present from someone else. It was a night full of excitement and laughter. I got a pair of Sony headphones from the party (lucky me!), and one of my colleagues passed me the present on one of the weekends when he travelled to Penang (thank you!).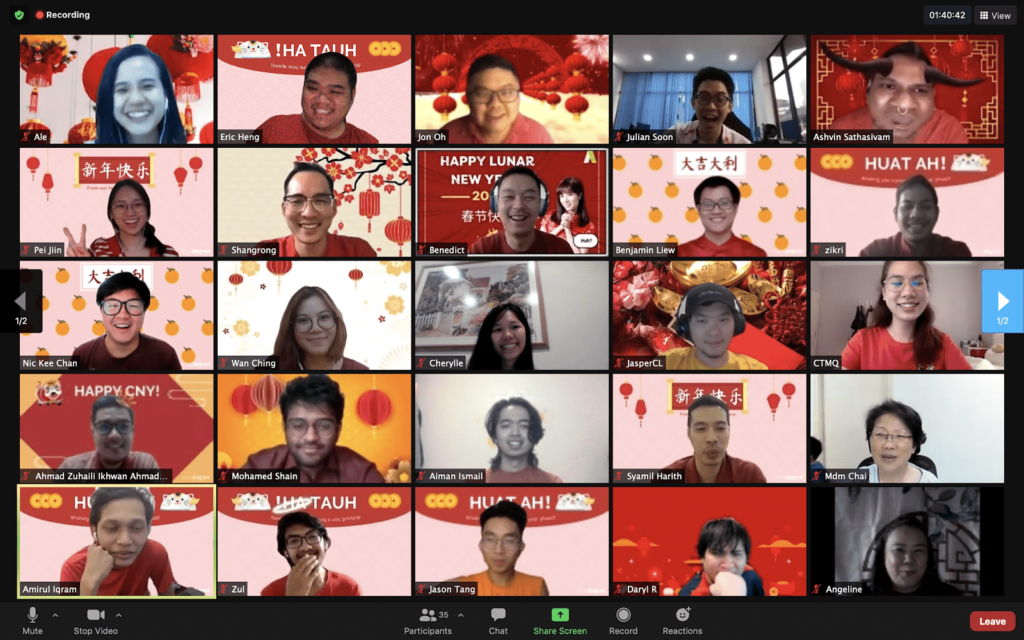 As for the Chinese New Year celebration, the company's tradition is to have dinner together. We still had it this year… but on Zoom! I had the chance to be part of the organising team this time, and it was really fun to plan and participate in the event with my other colleagues. We had a virtual dinner gathering, where we watched some CNY clips and a movie together while having dinner at home. The company also gave everyone a special "angpau" – A GrabFood voucher worth RM50! I assisted in distributing the voucher codes to everyone, and I'm glad that the event ended on a good note.
Besides these two huge events, the company also has weekly activities. The office teams take turns organising it, and most of the time, we would play games or watch movies (Stephen Chow's movie!). These nights were also the place that gave birth to the company's internal jokes. I took part in all these activities, and it was really fun to be able to chill with my colleagues. I really appreciate the company's initiative and efforts to care about their employees' mental health and happiness.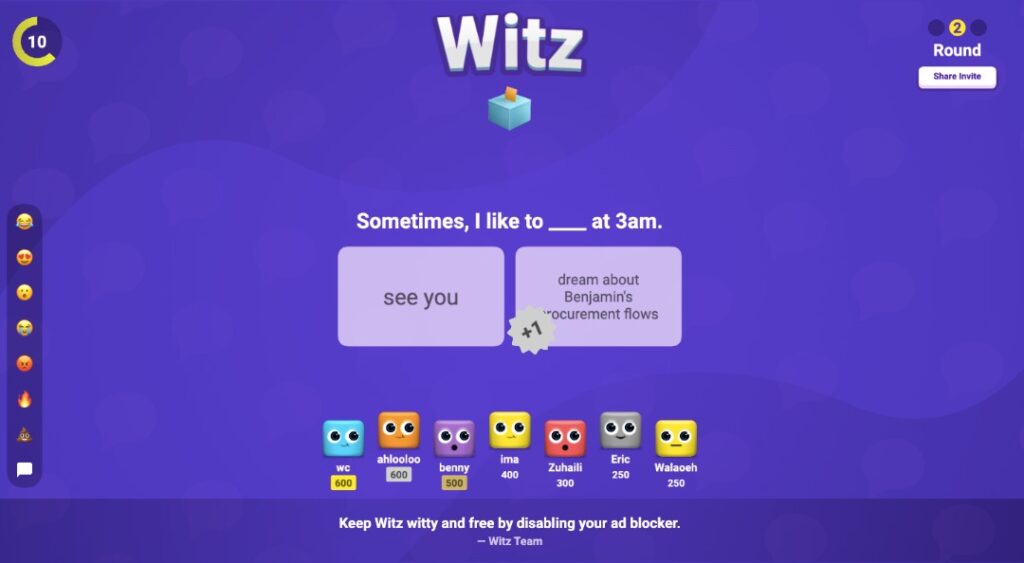 Signing Off For Now, Maybe I'll Meet The Cat In The Future!
Twelve weeks passed in a blink of an eye, and it's the end of my internship already. It has been a wonderful journey, even without the cat. I have met so many awesome people and made many friends. I joined the company as a small fry in web development, but after these three months, I think I've grown and improved, and I'm not the same small fry developer as I was before (I'm a levelled up small fry now!). I'd say it's the best internship experience that I've ever had! The only regrettable part of this internship is that I never got to set foot in the office, and I think I've missed out on a lot of fun things that the company has carried out before (I heard that they used to have board game night). Nevertheless, I still enjoyed the virtual companionship, and I'd really like to thank everyone in Supplycart, especially the Tech team ♥ And if you're looking forward to joining this awesome company, don't hesitate to drop your resume at their email!